Meta article
The following is a meta-article, which explains a concept which usually falls out of one of the wiki's categorizations, yet it's still important to explain something.










The Unreal Engine is a widely-used game engine developed by Epic Games. First illustrated in the 1998 first-person shooter game Unreal, it has been the basis of many games since, including Unreal Tournament, Mass Effect, Tom Clancy's Rainbow Six 3: Raven Shield, Tom Clancy's Rainbow Six: Vegas, Red Steel, Gears of War, BioShock, Tactical Ops, Fortnite, and so forth. Although primarily developed for first-person shooters, it has been successfully utilized in a variety of genres, including 3rd-person stealth (Tom Clancy's Splinter Cell) and MMORPG (Vanguard: Saga of Heroes).
Its core written in C++, the Unreal Engine features a high degree of portability, supporting a multitude of platforms including Microsoft Windows, Linux, Mac OS and Mac OS X on personal computers and many video game consoles including the Dreamcast, Xbox, Xbox 360, PlayStation 2, PlayStation 3, and Wii. A great deal of the gameplay code is written in UnrealScript, a proprietary scripting language, and as such large parts of the gameplay can be modified without delving deep into the engine internals. Additionally, as with other middleware packages, the Unreal Engine also provides various tools to assist with content creation, both for designers and artists.
The current release is Unreal Engine 4, designed for Microsoft's DirectX 11 and 12 (for Microsoft Windows, Xbox One, Windows RT); GNM (for PlayStation 4); OpenGL (for macOS, Linux, iOS, Android, Ouya, and Windows XP); Vulkan (for Android); Metal (for iOS); and JavaScript/WebGL (for HTML5 web browsers).
Versions
Edit
Unreal Engine 1
Edit
Making its debut in 1998, the first generation Unreal Engine integrated rendering, collision detection, AI, visibility, networking and file system management into one complete engine. With the level of integration used, some trade-offs were necessary to maintain performance levels with the hardware that was available at the time. For example, Epic decided to use cylindrical collision detection over the IK collision detection system in an effort to maintain playable framerates on systems that were common at the time of its release. Internally, Epic used this engine for Unreal and Unreal Tournament.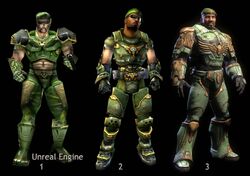 Unreal Engine 2
Edit
The second version of the Unreal Engine got off to a rocky start with the mixed reviews for Unreal Tournament 2003. This generation saw the core code and rendering engine completely re-written and the new UnrealEd 3 integrated. It also integrated the Karma physics SDK, which powered the ragdoll physics in Unreal Tournament 2003 and Unreal Championship. Many other engine elements were also updated, with improved and added support for the PlayStation 2, GameCube and the Xbox. Build UE2.5, an update, improved rendering performance and added vehicles physics, particle system editor for UnrealEd and 64-bit support in Unreal Tournament 2004. A specialized version of UE2.5 called UE2X, which was used for Unreal Championship 2, features optimizations specific to the first-generation Xbox.
Unreal Engine 3
Edit
The third generation Unreal Engine was designed specifically for DirectX 9/10 PCs, the Xbox 360 and PlayStation 3.[1] Its renderer supports many advanced techniques including HDRR, per-pixel lighting, and dynamic shadows, and builds upon the tools available in previous versions of the engine. Unreal Engine 3 IPP (Integrated Partners Program) includes:
Epic used this generation of the engine for Gears of War and Unreal Tournament 3.
Due to aggressive licensing, this current iteration has garnered a great deal of support from several big licensees, including Atari, Activision, Capcom, Disney, Konami, Koei, 2K Games, Midway, THQ, Ubisoft, Sega, Sony, Electronic Arts, Square Enix and more. UE3 has also seen adoption by many non-gaming projects including construction simulation and design, training simulation, driving simulation, virtual reality shopping malls, movie storyboards, continuity, pre-visual, etc., in spite of the fact that the toolset and source code are meant for games. At E3 2007, Sony announced a partnership with Epic with the objective of optimizing the Unreal Engine 3 for the PlayStation 3 hardware, which would affect the dozens of games and developers currently using it.
As of July 19, 2007, the Unreal Engine 3 is the subject of a lawsuit served to Epic from Silicon Knights. Denis Dyack, president of Silicon Knights alleged that the Unreal Engine 3 did not work as Epic promised and that certain features and support were not delivered in a timely manner. "..it seems pretty clear that Gears [of War] was built on the backs of the Unreal Engine licensees. We certainly stand by our allegations in the lawsuit that instead of using our licensing fees to develop and support the Unreal Engine 3, Epic used that money to build Gears," Dyack said. As such, Silicon Knights decided not to use the Unreal Engine for future games and instead, allegedly modified the Unreal Engine and are using it as their own. Epic however, counter-sued Silicon Knights for unrightful use of Unreal 3 technology in their new Silicon Knights engine.
Unreal Engine 3 is also being developed for the Nintendo Wii by Ubisoft.
Unreal Engine 4
Edit
Main article: Unreal Engine 4
Mark Rein, the vice-president of Epic Games, revealed on August 18, 2005 that Unreal Engine 4 had been in development over the past two years.[14] The engine targets PCs, then the next generation of consoles after the seventh generation. The only person to work on the Unreal Engine 4 core system design so far is Tim Sweeney, technical director and founder of Epic games.[15] However, at the 2006 GDC, Sweeney stated that development will not begin in earnest on the next version until some time in 2008.
Video games
Edit
A list of many other games powered by Unreal Technology can be viewed on the official website.
Unreal Engine 1
Edit
Unreal Engine 2
Edit
Unreal Engine 3
Edit
See also
Edit
References
Edit
External links
Edit