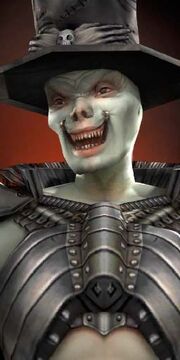 | | |
| --- | --- |
| | This user has been an admin of the Unreal Wiki for 3 years, 9 months and 4 days . |
| | |
| --- | --- |
| 🇦🇷 | This user is a citizen of Argentina |
| | |
| --- | --- |
| SPA | This user is a native Spanish speaker. |
| | |
| --- | --- |
| ENG | This user is a fluent English speaker. |
| | |
| --- | --- |
| | This editor is an user of Windows 7. |
| | |
| --- | --- |
| | This editor is an user of Linux. |
| | |
| --- | --- |
| | This editor is an user of Android. |
| | |
| --- | --- |
| | This user's favorite Weapon is the Shock Rifle from Unreal Tournament. |
| | |
| --- | --- |
| | This user's favorite Weapon is the Shock Rifle from Unreal Tournament 2004. |
| | |
| --- | --- |
| | This user's favorite Weapon is the Minigun from Unreal Tournament 2004. |
| | |
| --- | --- |
| | This user's favorite Weapon is the Bio Rifle from Unreal Tournament 3. |
| | |
| --- | --- |
| | This user's favorite Vehicle is the Goliath from Unreal Tournament 2004. |
| | |
| --- | --- |
| | This user's favorite Weapon is the Rocket Launcher from Unreal Tournament 3. |
| | |
| --- | --- |
| | This user's favorite Vehicle is the Scorpion from Unreal Tournament 3. |
Happy happy Helloween!
Helloween! Helloween!
Happy happy Helloween!
Whoah! Whoah! Whoah! Whoah!
AND WELCOME TO THE UNREAL WIKI!
THE HOUSE! THAT N-E-O-N KNIGHT BUILT!
My name, as you can guess, is PumpkinKnight... no, really. I'm Luciano, 33 years old, from Argentina, playing Unreal since I was 17, though I'm mostly interested in level design (I'm actually a level designer in another, non-UE game, called OpenArena) and fan-related stuff such as lore. I don't have much interest in competitive gaming, though my skill level is nearly Adept in the scale from Novice to Godlike.
Former editor of the Liandri Archives, now full-time (?) organizer of Unreal Wiki. Hopefully we can build something awesome here. :) You can find me on most Discord channels. We're also building something awesome there.
Which Unreal game I like? ALL OF THEM.
Other wikis I frequent include Mortal Kombat, Quake and the pro wrestling wiki.
Also a troper. (?) BEWARE: Time-sucking site. Enter at your own risk.
Rescued articles
Articles which I had saved on my PC and cannot even be found in the Internet Archive anymore. Enjoy!
Different reports for wiki maintenance
Random things
Community content is available under
CC-BY-SA
unless otherwise noted.