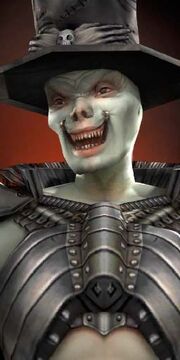 | | |
| --- | --- |
| | This user has been an admin of the Unreal Wiki for 5 years, 2 months and 10 days . |
| | |
| --- | --- |
| 🇦🇷 | This user is a citizen of Argentina |
| | |
| --- | --- |
| SPA | This user is a native Spanish speaker. |
| | |
| --- | --- |
| ENG | This user is a fluent English speaker. |
| | |
| --- | --- |
| | This editor is an user of Windows 7. |
| | |
| --- | --- |
| | This editor is an user of Linux. |
| | |
| --- | --- |
| | This editor is an user of Android. |
| | |
| --- | --- |
| | This user's favorite Weapon is the Shock Rifle from Unreal Tournament. |
| | |
| --- | --- |
| | This user's favorite Weapon is the Shock Rifle from Unreal Tournament 2004. |
| | |
| --- | --- |
| | This user's favorite Weapon is the Minigun from Unreal Tournament 2004. |
| | |
| --- | --- |
| | This user's favorite Weapon is the Bio Rifle from Unreal Tournament 3. |
| | |
| --- | --- |
| | This user's favorite Vehicle is the Goliath from Unreal Tournament 2004. |
| | |
| --- | --- |
| | This user's favorite Weapon is the Rocket Launcher from Unreal Tournament 3. |
| | |
| --- | --- |
| | This user's favorite Vehicle is the Scorpion from Unreal Tournament 3. |
Happy happy Helloween!
Helloween! Helloween!
Happy happy Helloween!
Whoah! Whoah! Whoah! Whoah!
AND WELCOME TO THE UNREAL WIKI!
THE HOUSE! THAT N-E-O-N KNIGHT BUILT!
My name, as you can guess, is PumpkinKnight... no, really. I'm Luciano, 33 years old, from Argentina, playing Unreal since I was 17, though I'm mostly interested in level design (I'm actually a level designer in another, non-UE game, called OpenArena) and fan-related stuff such as lore. I don't have much interest in competitive gaming, though my skill level is nearly Adept in the scale from Novice to Godlike.
Former editor of the Liandri Archives, now full-time (?) organizer of Unreal Wiki. Hopefully we can build something awesome here. :) You can find me on most Discord channels. We're also building something awesome there. Also main coordinator of the localization project on OldUnreal, somehow managed to get 10 working languages for Unreal v227j and 8 for UT99 v469c. The aim is 15 languages. Quite the challenge.
Which Unreal game I like? ALL OF THEM.
Other wikis I frequent include Mortal Kombat, Quake and the pro wrestling wiki.
Also a troper. (?) BEWARE: Time-sucking site. Enter at your own risk.
Rescued articles
Articles which I had saved on my PC and cannot even be found in the Internet Archive anymore. Enjoy!
Different reports for wiki maintenance
Random things
Quotes
"Practice good sportsmanship. You were a n00b once, too."
"Level Designers are 1 part architect, 1 part artist, 1 part game designer, and 1 part beta tester!"
"The ratio of critics to creators is something like 10,000:1. The ratio of good critics to bad: 1:10,000 (where 'good' means 'helps advancing the art')."
– Fast Eddie, TVTropes
"The projects that never start are the projects with the "idea man" as the leader."
–
Brandon "GreenMarine" Reinhart
ProTips
Anybody using the phrase "I'm a True Fan and You're Not!" is an obnoxious, self-centered, egotistical, elitist, narcissist douchebag.
Anybody who uses the "Royal We" when making a demand wants to pass their own opinion as everyone else's.
Only the people that do nothing but criticize don't make mistakes. Do things. Make mistakes. Learn from them. And screw those who do nothing but throw poison and criticize.
If the Duke Nukem Forever fiasco wasn't enough of a lesson, perfectionism leads to nothing positive. Don't be afraid of releasing a buggy product. Even the most polished product has its flaws.
LINKS!
Unreal Universe: What if Unreal was an RTS? (WIP!)
Ruined FOREVER: Enter here at your own risk. You might get offended. You're warned.

Unreal wallpapers

(WIP!)